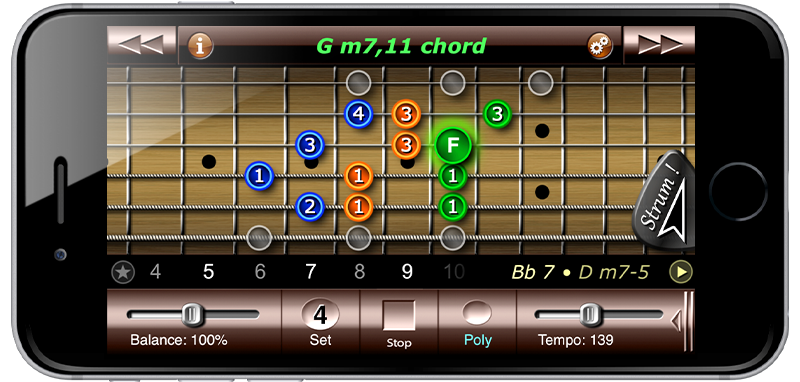 Key Features
Library of 87 modes (altered diatonic, harmonic, melodic, double harmonic, mixodiatonic, pentatonic), which can be transposed in any key (over 1,000 total modes incl. transposition!)
Each mode can produce up to 30 quartal harmony chords!
Change a number of notes in chords by tapping "Set" button
Accompaniment (harmony) feature: you can see and listen to the chords, over which the current mode and chord progression can be played
"Strum" feature: pick any colored chord from the progression by tapping any note on the fretboard and strum on the screen with your finger to play it
Name of currently selected chord is shown in the top bar

About Quartal Harmony
Quartal harmony is a special kind of chords, which consist of intervals of the perfect fourth (P4), diminished fourth (d4), augmented fourth (A4, tritone) and sometimes doubly augmented fourth (AA4, perfect quint). Such famous world classic composers as A. Schoenberg, Bela Bartok, M. Mussorgsky, J. Sibelius and others have featured quartal harmonies in their work. Many of big name guitarists, such as John Scofield, John Abercrombie, Mick Goodrick, Johnny Smith, Tal Farlow, Chuck Wayne, Scott Henderson, Barney Kessel, Joe Pass, Jimmy Raney, Wes Montgomery, Jim Hall, George Benson, Pat Martino, Joe Diorio, Howard Roberts, Kenny Burrell, Mike Stern, Jimmy Bruno and others were using quartal harmonies in their compositions. The above can also be said about such famous musicians, as Dave Liebman, Chick Corea, Herbie Hancock, Jerry Bergonzi, Jack Wilkins, Henry Johnson, Russell Malone, Howard Alden, Paul Bollenback, Mark Whitfield and Rodney Jones. This list can be appended with genius saxophonists John Coltrane and Michael Brecker.
With Quartal Harmony Guitar app you will be able to bring original mood and exotic sounding into your music, as well as to play your improvisations over these functions. This app will become a great professional tool not only for beginner solo guitarists and accompanists, but also for professional composers and teachers of music theory.
There is no analogue in the App Store! Try it !!!
Quartal Harmony related Links:
http://wiki.youngcomposers.com/Quartal_and_quintal_harmony
https://www.youtube.com/watch?v=ZPLrTbdr9mQ&feature=related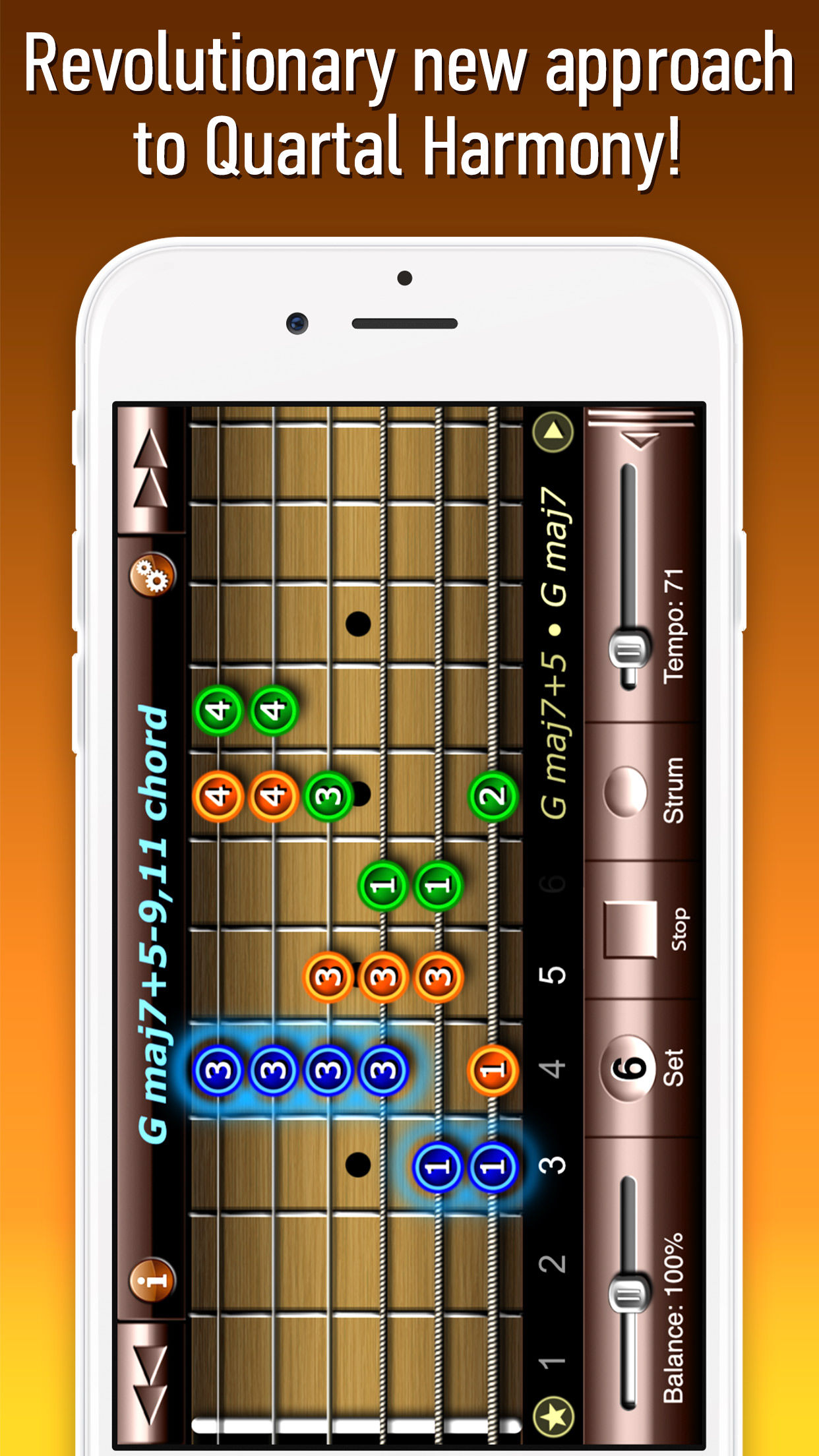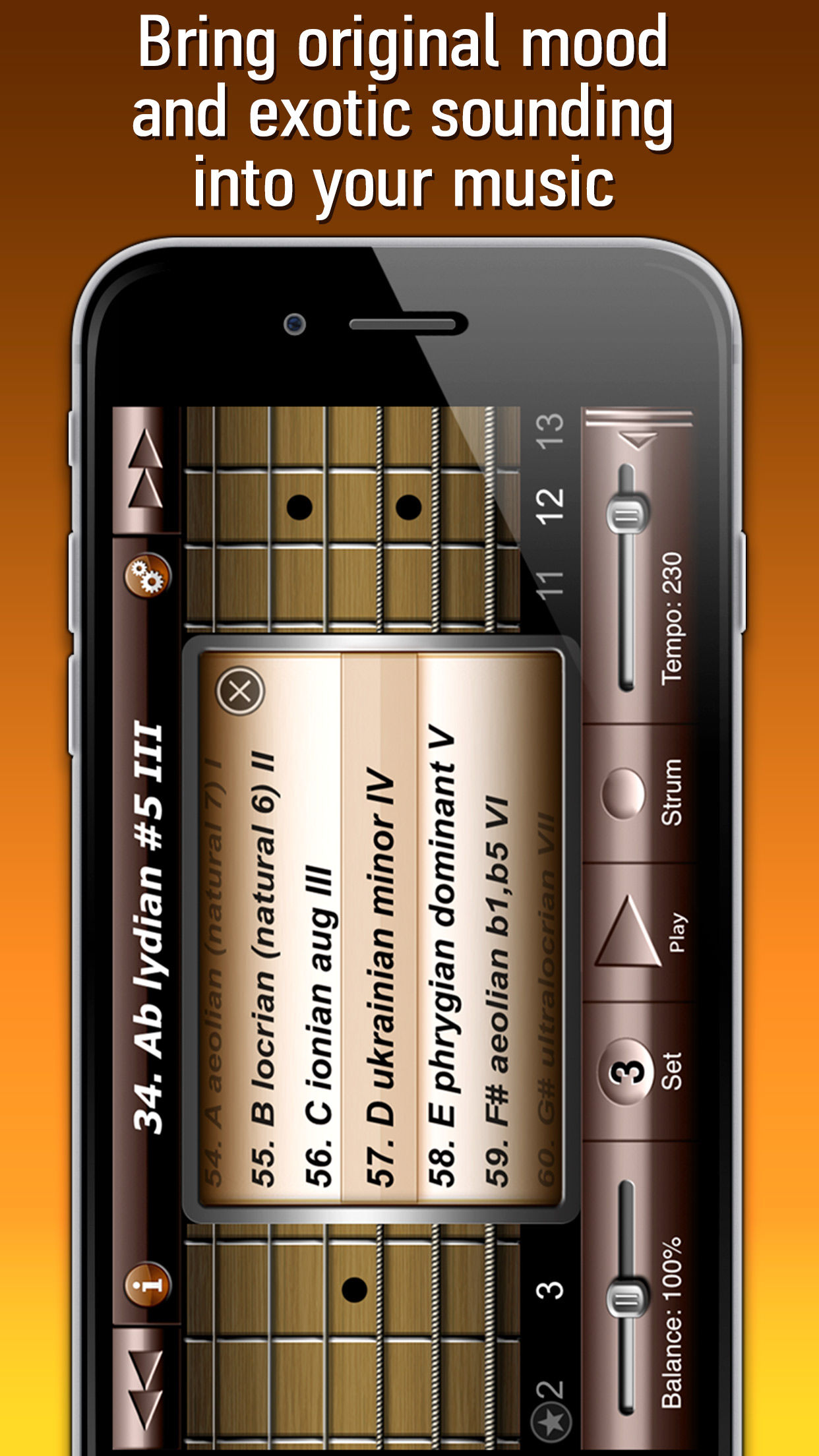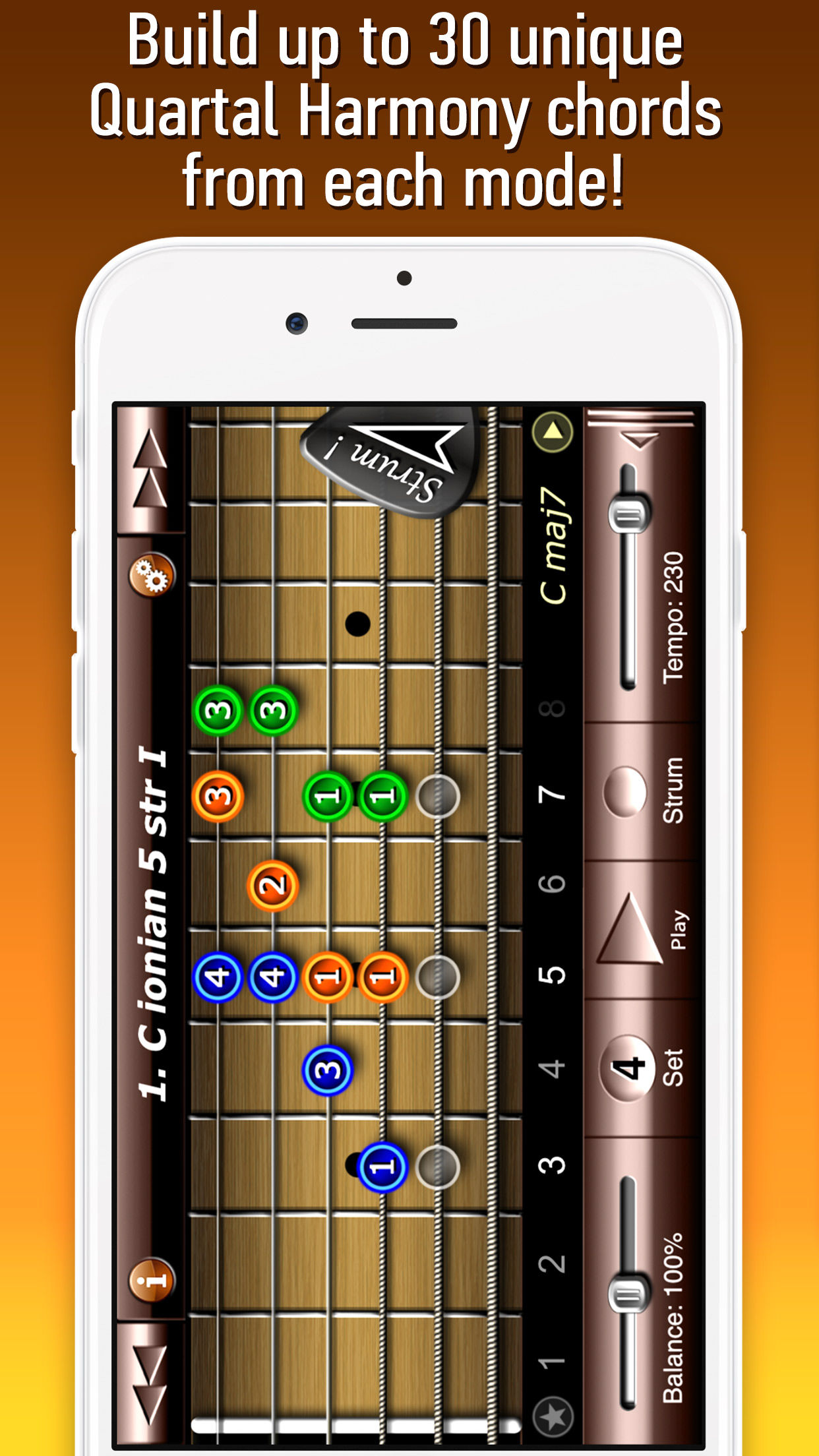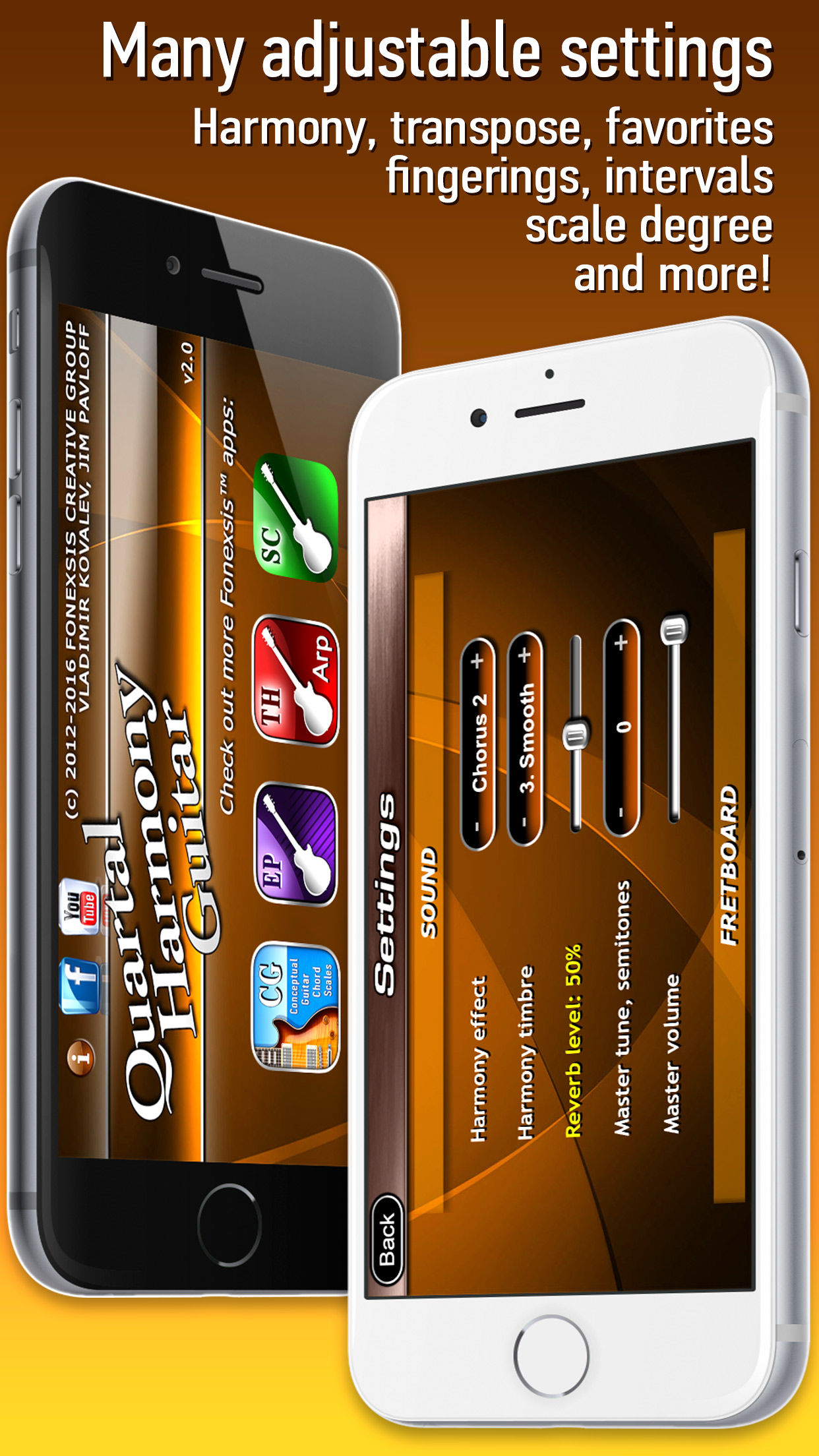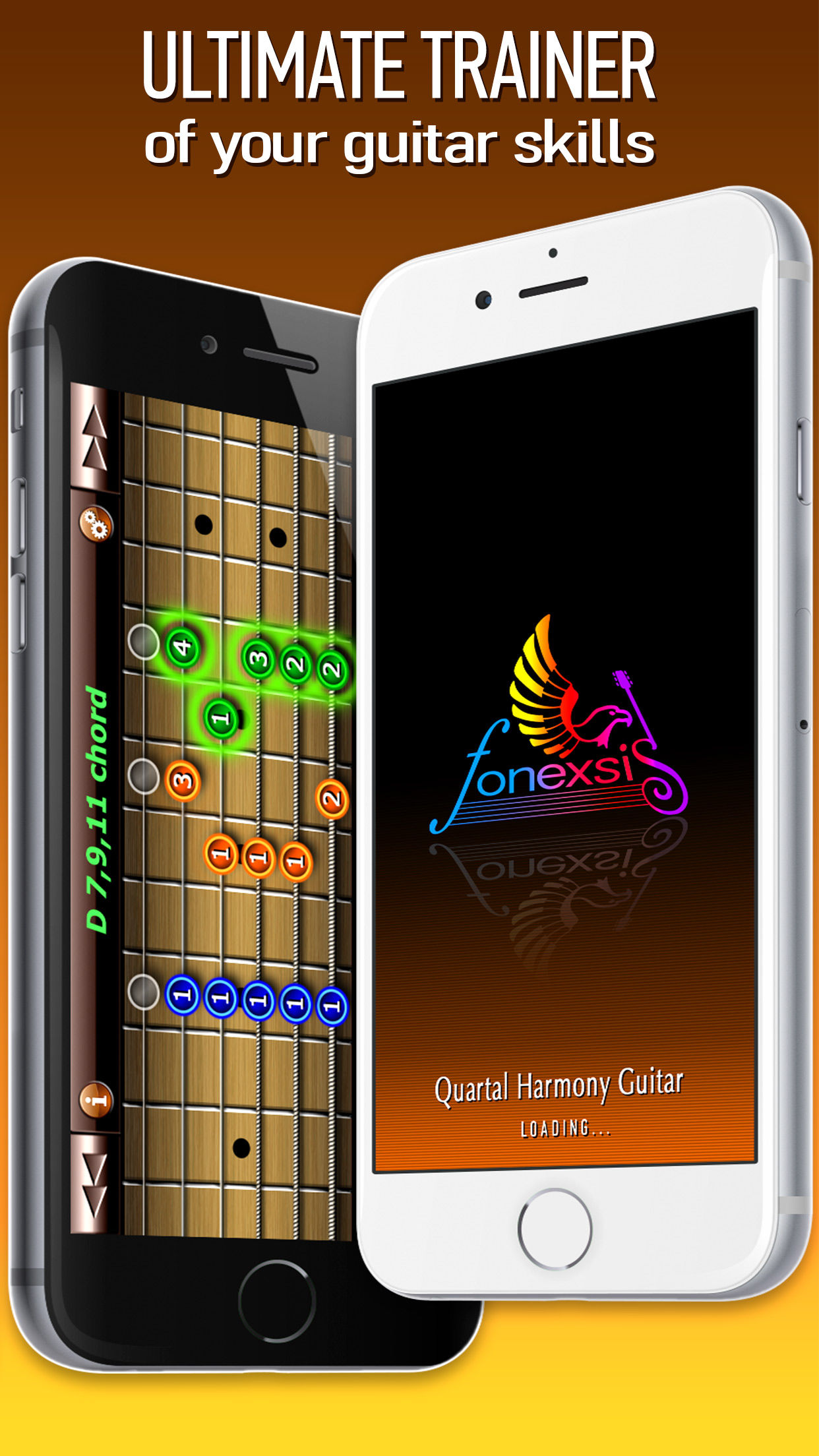 Other features
Change a number of notes in chords by tapping "Set" button:

Setting value of "1" leads to standard note-by-note playback of current mode
Setting value of "2" : current mode will be played by intervals
Value "3", "4", "5" and "6" : current mode will be played by chords, which consist of 3, 4, 5 and 6 notes accordingly

Name of currently selected chord is shown in the top bar in color (blue, orange and green, in accordance with the color of currently selected chord)
Use the button "Mono / Poly / Strum" to change playback style:

Mono : monophonic 1-voice sounding of chords/modes
Poly : polyphonic 6-voice harp-style sounding of chords/modes
Strum : strum-style playback of chords

Ability to change playback tempo for training
Ability to adjust a volume balance between accompaniment and solo guitar sounds
Favorites system
Search by name system
Every mode and every chord is provided with corresponding optimal fingerings for your comfort
Transpose to any desired key by dragging notes on the screen with your finger
Note names are displayed inside the playback cursor
Sharp and flat signatures correspond to the current scale's key
Step by step note playback in both directions for detailed learning of scales
Six selectable harmony timbres to choose from
Stereo Chorus FX for harmony chords at your choice
Adjustable Reverb effect on guitar sounds
Stereo high-quality sound engine for listening in headphones