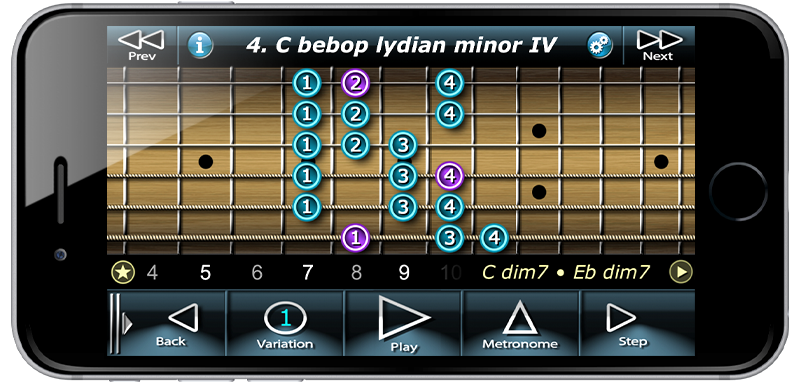 Key Features
72 bebop scales (about 360 scales incl. all variations), which can be easily transposed, resulting in more than 4,000 of total Scales (incl. variations and transposition)!
Harmonization feature of every Scale: you can listen to the chords, over which given Scales can be played. More information about these chords you can find in our "International Guitar Chords 1 & 2" apps. This is a common technique used by arrangers to harmonize melodic lines
Every Scale is provided with several fingerings, vertical and horizontal, narrow of wide, at your taste! You can switch between these different fingerings inside one Scale by tapping "Variation" button
Transpose Scales into any desired key by dragging notes on the screen with your finger
Metronome with adjustable tempo and time signature for training

About Bebop Scales
From the early 1920s, jazz musicians attempted to make their improvised lines flow more smoothly by connecting scales and scale tones through the use of chromatic passing tones. During that period of time such jazz giants as Charlie Parker, Dizzy Gillespie, Wes Montgomery and Bud Powell began adding an extra half step to the major scale and the modes derived from it (i.e., dorian mixolydian, and locrian). This technique has the effect of making the scales rhythmically symmetrical when played in eighth notes, as most lines were at the time. For instance, a major scale played in eighth notes with the extra half step added.
If you have started to check out transcriptions or licks by Charlie Parker, Pat Martino, George Benson or Mike Stern, you'll have come across bebop scales in the lines of these great players. Ben Monder, Allan Holdsworth, Adam Rogers also have bebop scales in their musical arsenal.
The "Bebop Scales on Guitar" is the only app that represents a big number of bebop scales in a very simple and visual way on your mobile device. There's no analogue in App Store!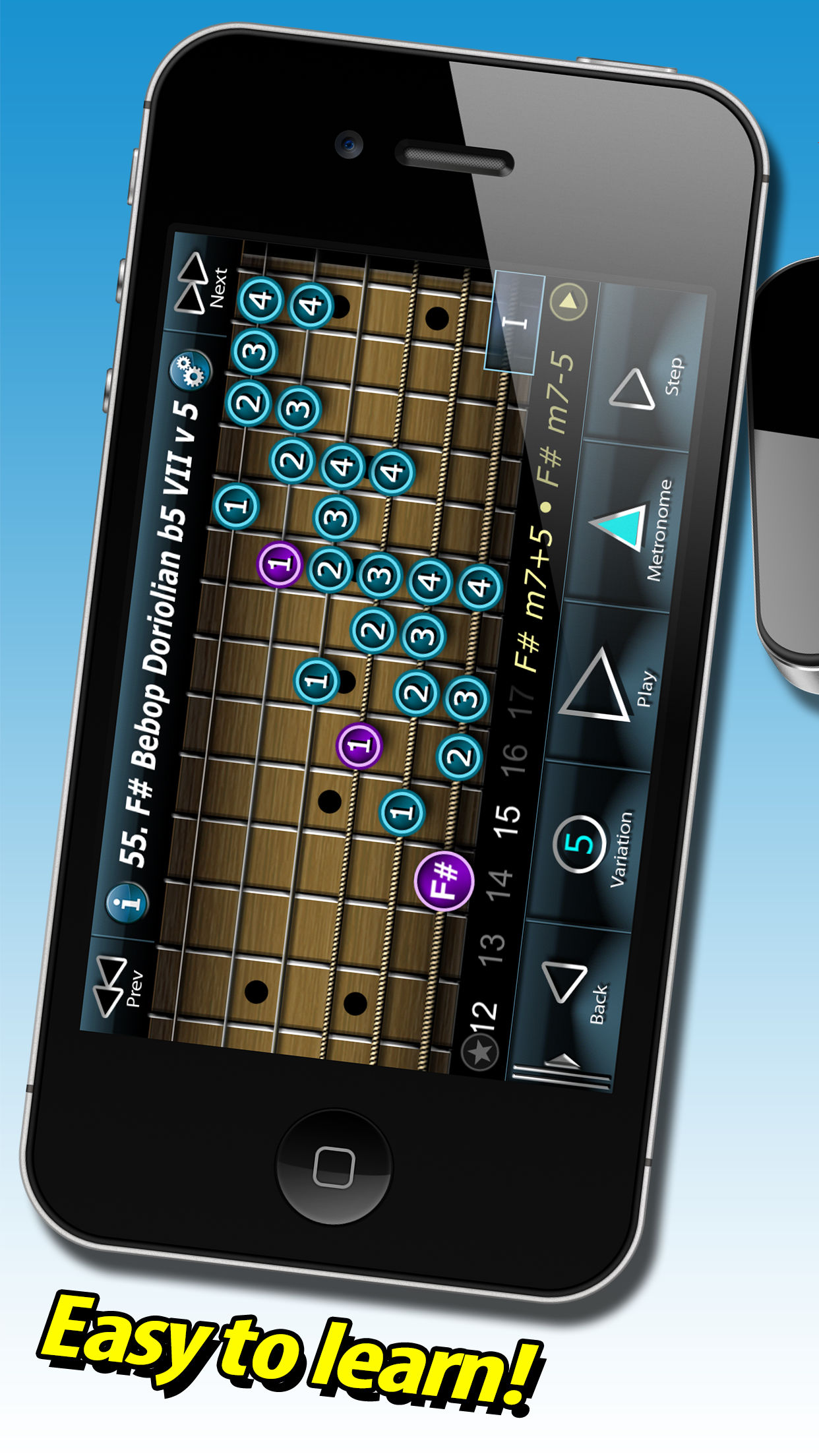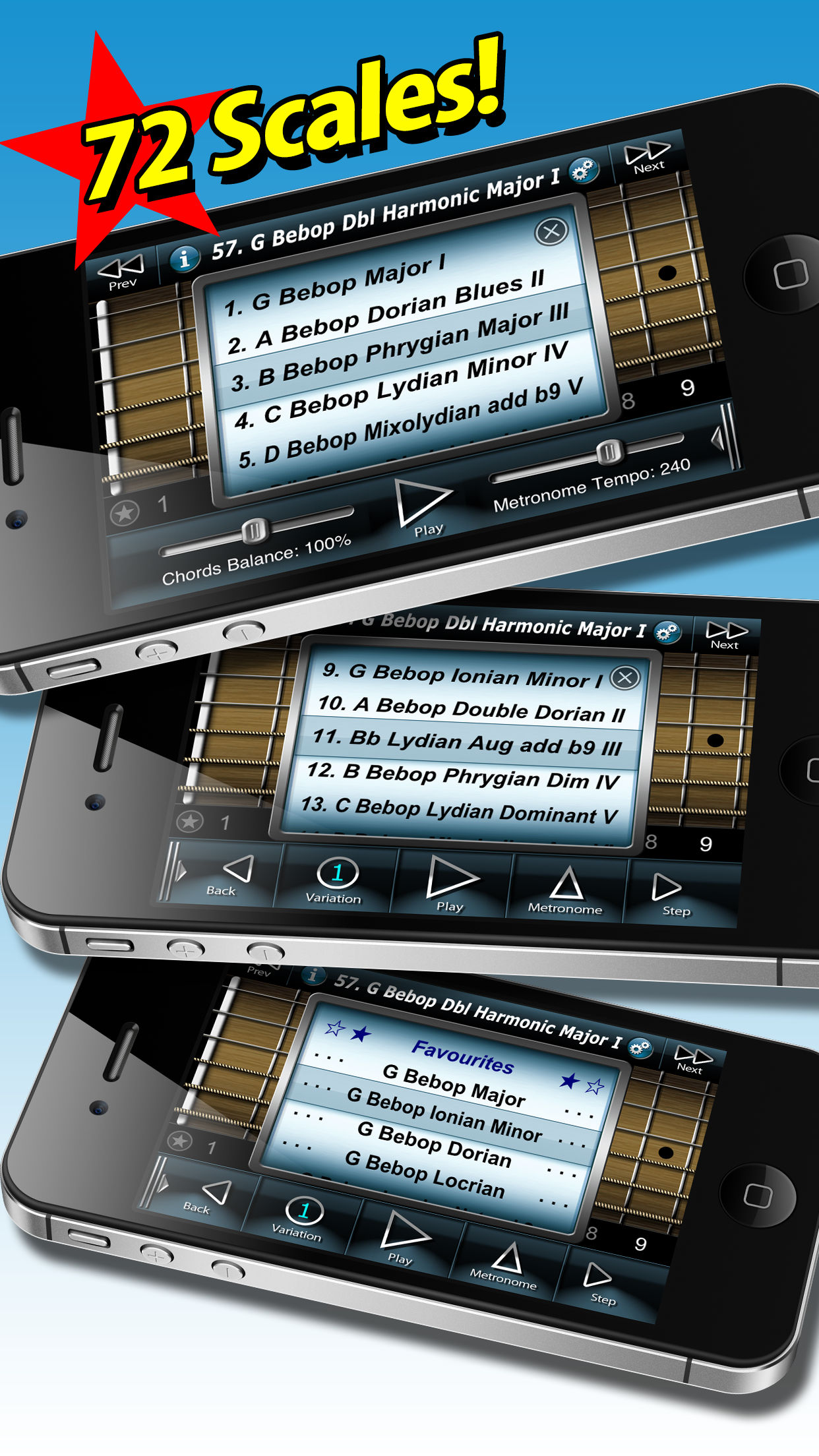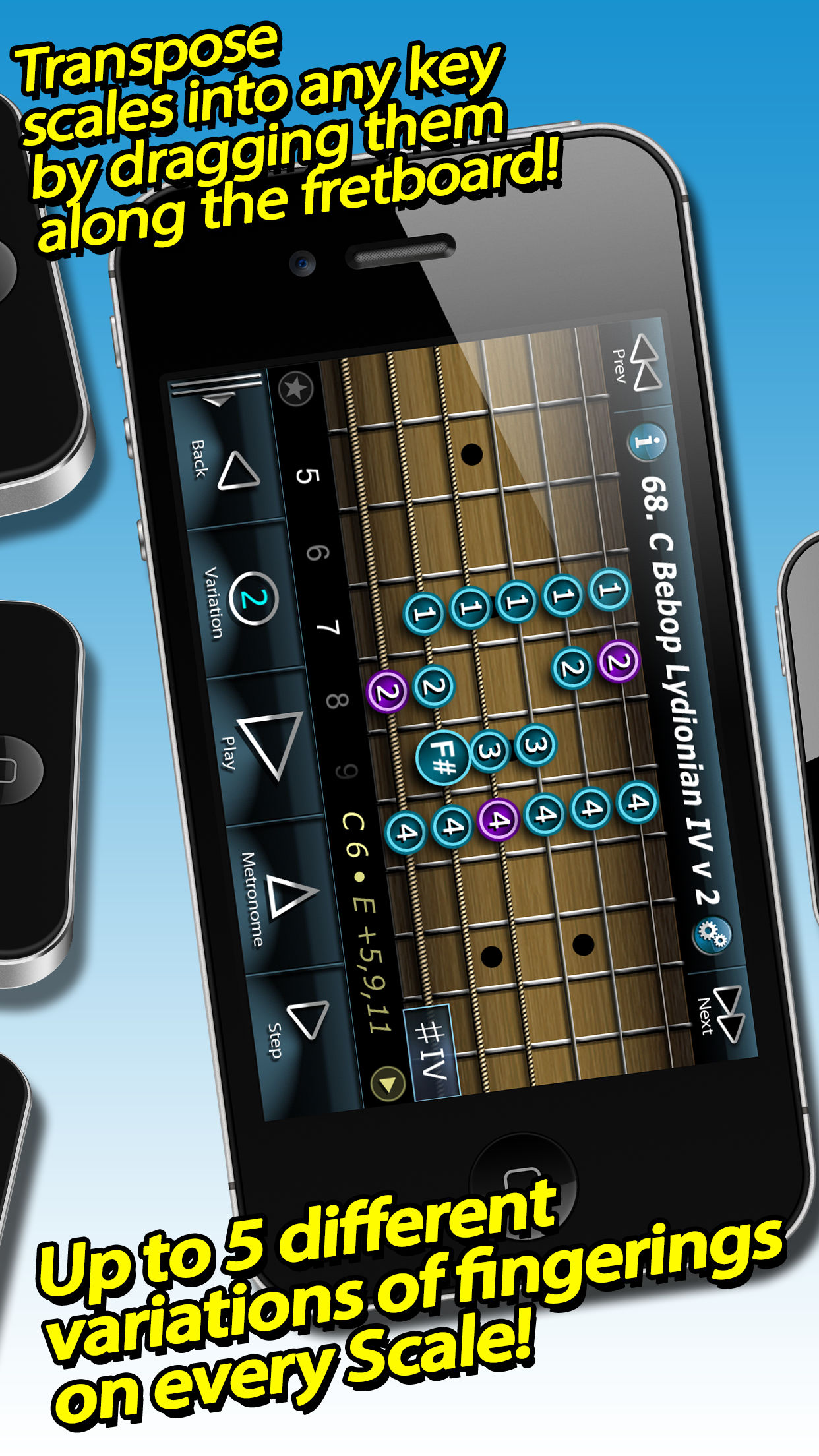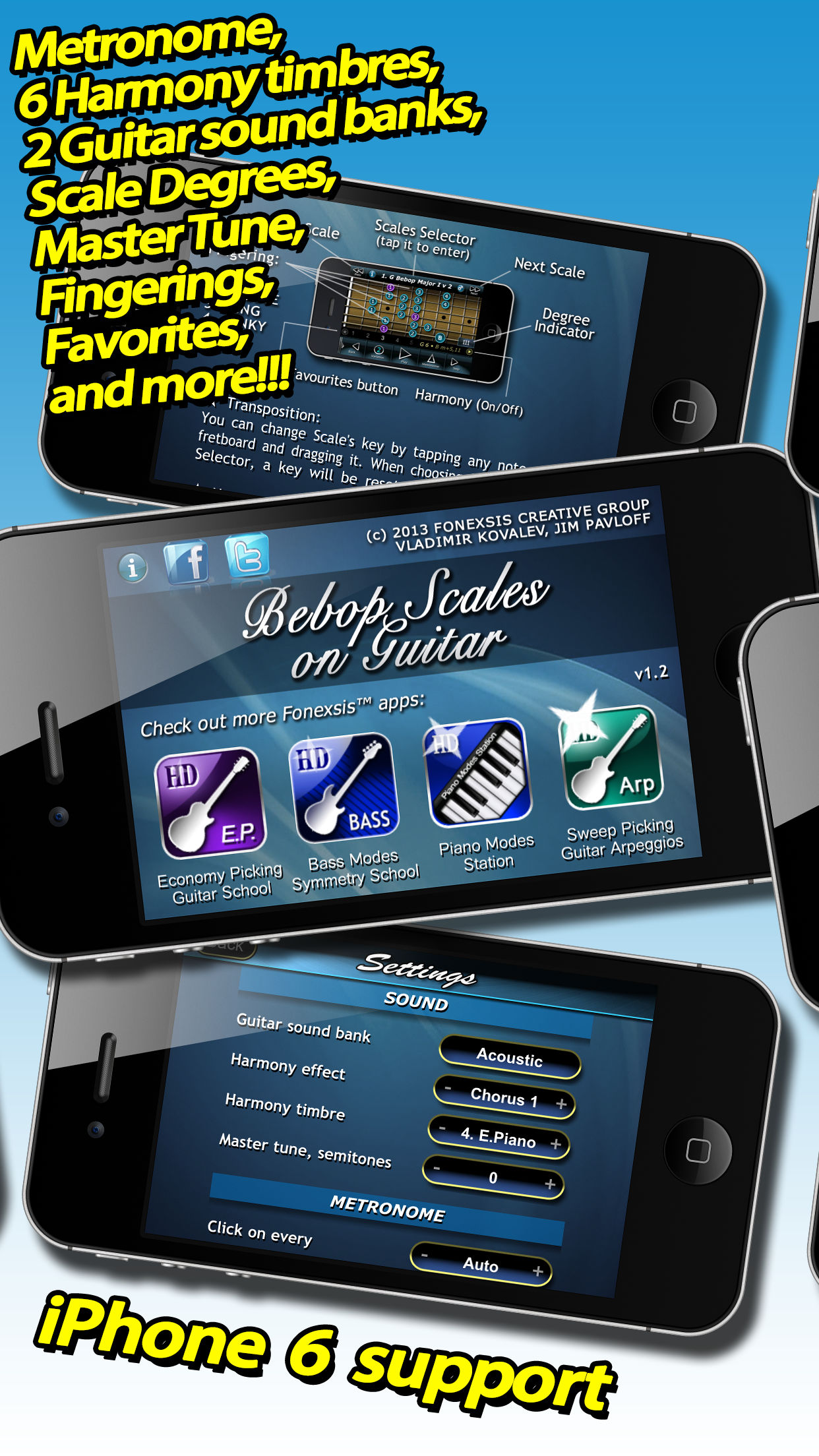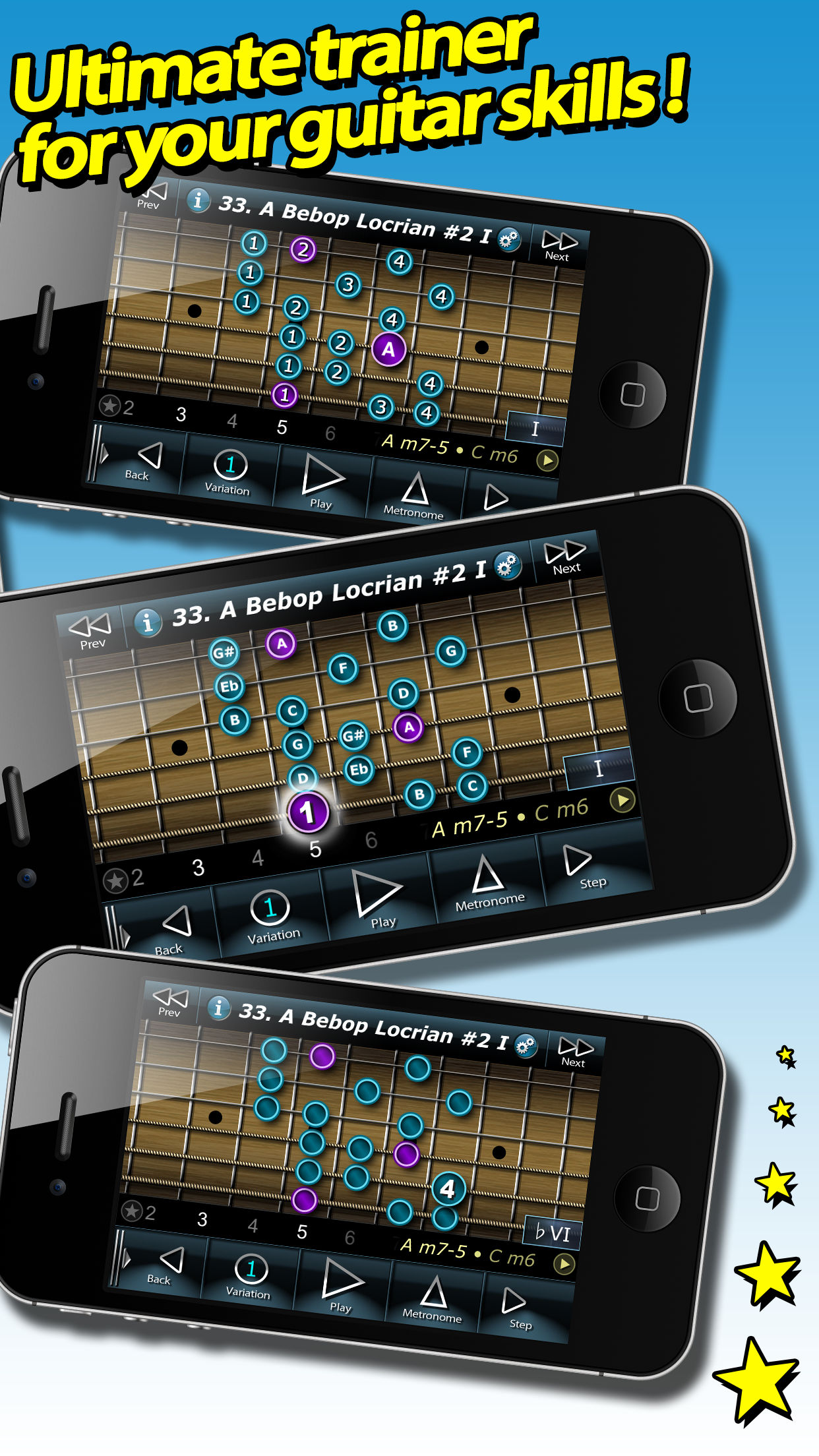 Other Features
Cursor can display note names or fingering (selectable)
Notes can display note names or fingering (selectable)
Degree indicator. It allows you to examine scale steps in detail. (Degree on/off toggle is located at the bottom of the Settings page)
Sharp and flat signatures correspond to the current Scale's key
Fast cycled playback with adjustable tempo (30 - 360 BPM)
Step by step note playback in both directions for detailed learning of Scales
Favorites button (a Star) to mark your favorite modes. After, you can access them all from "Favourites" folder in the Scales Picker
Adjustable volume balance between harmony and bass note sounds
Two guitar sound banks (Acoustic and Distortion) to select
Six selectable harmony timbres to choose from
Favorites button (a Star) to mark your favorite modes. After, you can access them all from "Favorites" folder in the Scales Picker
Master Tune parameter to use with bass guitars with different tunings
Stereo Chorus FX for harmony chords at your choice
iPad, iPhone 6 / 6 Plus native resolution screen support