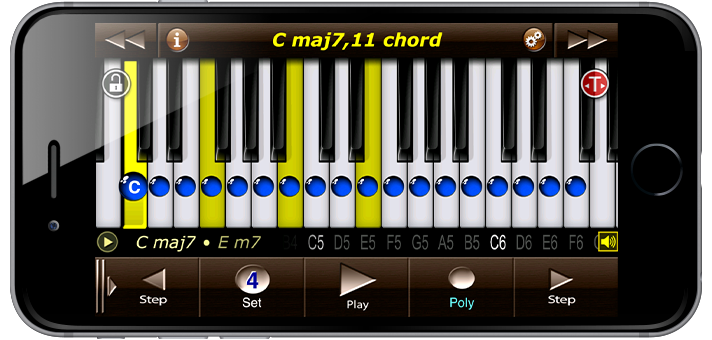 Key Features
Library of 111 modes (harmonic, melodic, diminished, hexatonic, augmented, double harmonic, altered pentatonic, messiaen modes), which can be transposed in any key (over 1,300 total modes incl. transposition!)
Each mode can produce up to 30 quartal harmony chords & arpeggio!
Theoretical and practical usage for any musical instrument
Accompaniment feature: you can see and listen to the chords, over which the current mode and chord progression can be played
Lock to Mode function. It enables you to play only those notes, which belong to currently selected Mode on the piano keyboard. This is useful to play a melody on keyboard or to quickly listen to selected Mode or Scale

Introduction to Quartal Harmony
Looking for something new? Bothered with primitive chords in other piano apps? No problem! This app will become a great discovery for you! By performing quartal arpeggio you will achieve your extra ordinary sounding and originality!
Quartal Harmony is a special kind of chords, which consist of intervals of the perfect fourth (P4), diminished fourth (d4), augmented fourth (A4, tritone) and sometimes doubly augmented forth (AA4, perfect quint). Such classic composers as Frederic Chopin, Franz Liszt, L. Beethoven employed similar technique. Composers who also use Quartal Harmony include A. Schoenberg, Bela Bartok, A. Skryabin, M. Mussorgsky, C. Debussy, M. Ravel, J. Sibelius, I. Stravinsky, O. Messiaen. Famous jazz musicians D. Ellington, J.R. Morton, A. Tatum, B. Evans, C. Corea, H. Hancock, McCoy Tyner, were using Quartal Harmonies in their compositions, as well as early progressive rock bands like King Crimson, Emerson, Lake & Palmer, etc.
With Quartal Harmony & Arpeggio Piano app you will be able to bring original mood and exotic sounding into your music. It contains a set of modes and quartal harmonies, which you can use for composing and improvisations. The app also contains intervals and arpeggio for your technique skills training. This app is a great professional tool not only for beginner pianists, but also for professional composers and teachers of music theory.
There is no analogue in the App Store! Try it !!!
Quartal Harmony related Links:
http://wiki.youngcomposers.com/Quartal_and_quintal_harmony
https://www.youtube.com/watch?v=ZPLrTbdr9mQ&feature=related
Other Features:
Play piano keyboard on the screen with your fingers
Piano keyboard is easily movable and resizable with your fingers
Change a number of notes in chords by tapping "Set" button:

setting value of "1" leads to standard note-by-note playback of current mode
setting value of "2" : current mode will be played by intervals
value "3", "4", "5" and "6" : current mode will be played by chords, which consist of 3, 4, 5 and 6 notes accordingly

Use the button "Mono/Poly/Chords" to change playback style:

Mono : monophonic 1-voice sounding of chords/modes
Poly : polyphonic sounding of chords/modes
Chords : chords-style playback

Six adjustable Harmony timbres and FX
Transpose to any desired key by tapping Transpose button (T) and dragging notes with your finger along the piano keyboard
Ability to change playback tempo for training
Ability to adjust a volume balance between accompaniment and piano sounds
Sharps and flats signatures correspond to the current scale's key
Note degree feature allows to see current note's scale degree
Stereo high-quality sound engine for listening in headphones