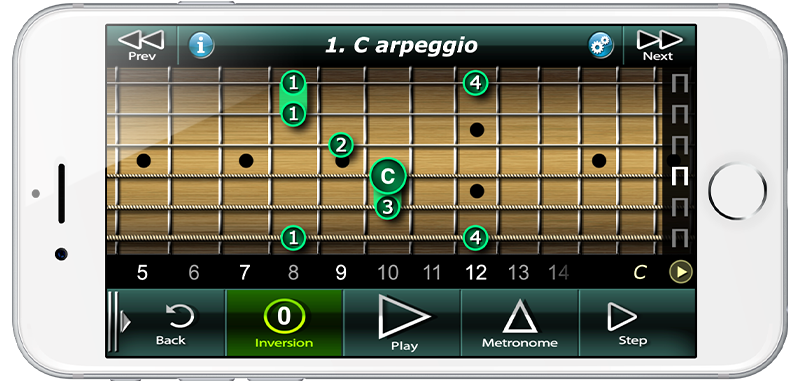 Key Features
611 different sweeping arpeggios (incl. inversions)!
Each can be transposed to any desired key (over 7,300 of total arpeggios incl. transposition)!
Every arpeggio is provided with corresponding optimal fingering
Every arpeggio is provided with a sequence of strokes, showing you necessary strokes for every note of arpeggio. These strokes (upstroke, downstroke, pull-off, hammer on, slide and tap) are provided to help you to achieve high speed arpeggios playing. Read the info page inside this application for detailed description on every stroke
Voice helper function helps you in learning by speaking the strokes when in Step mode

About Sweep Picking Arpeggios
Arpeggio is considered to be the most outstanding lick in the world of instrumental skills. Niccolo Paganini used to amaze his listeners by the magic of arpeggios performance as on a violin, so on a guitar. His Capricci achieved the world fame. From those times musicians started to show great interest to high-speed performance of arpeggios.
Sweep Picking (aka Economy Picking) technique, represented in this app, is the key technique that will allow you to achieve a very high-speed rendition of arpeggios. The most famous guitarists like Yngwie Malmsteen (neo classic rock), Tony Macalpine (rock, extreme metal), Tosin Abasi (progressive metal), Frank Gambale (fusion, jazz), Steve Morse (Deep Purple; rock, barocco), Richie Kotzen (hard rock), Jason Becker (heavy metal, neo classic), Paul Gilbert (speed metal), Stochelo Rosenberg (gypsy jazz, manouche), John Petrucci (Dream Theater, instrumental rock), Rusty Cooley (progressive metal) and many others masterfully use sweep picking arpeggios in their music. All types of these arpeggios with fingerings, strokes, inversions and much more are integrated into one single application (WOW!)
By having this app, you will be able to play arpeggios as fast as professional guitarists do! Of course, you will need some time to practice, but result is worth it!
DEMO VIDEO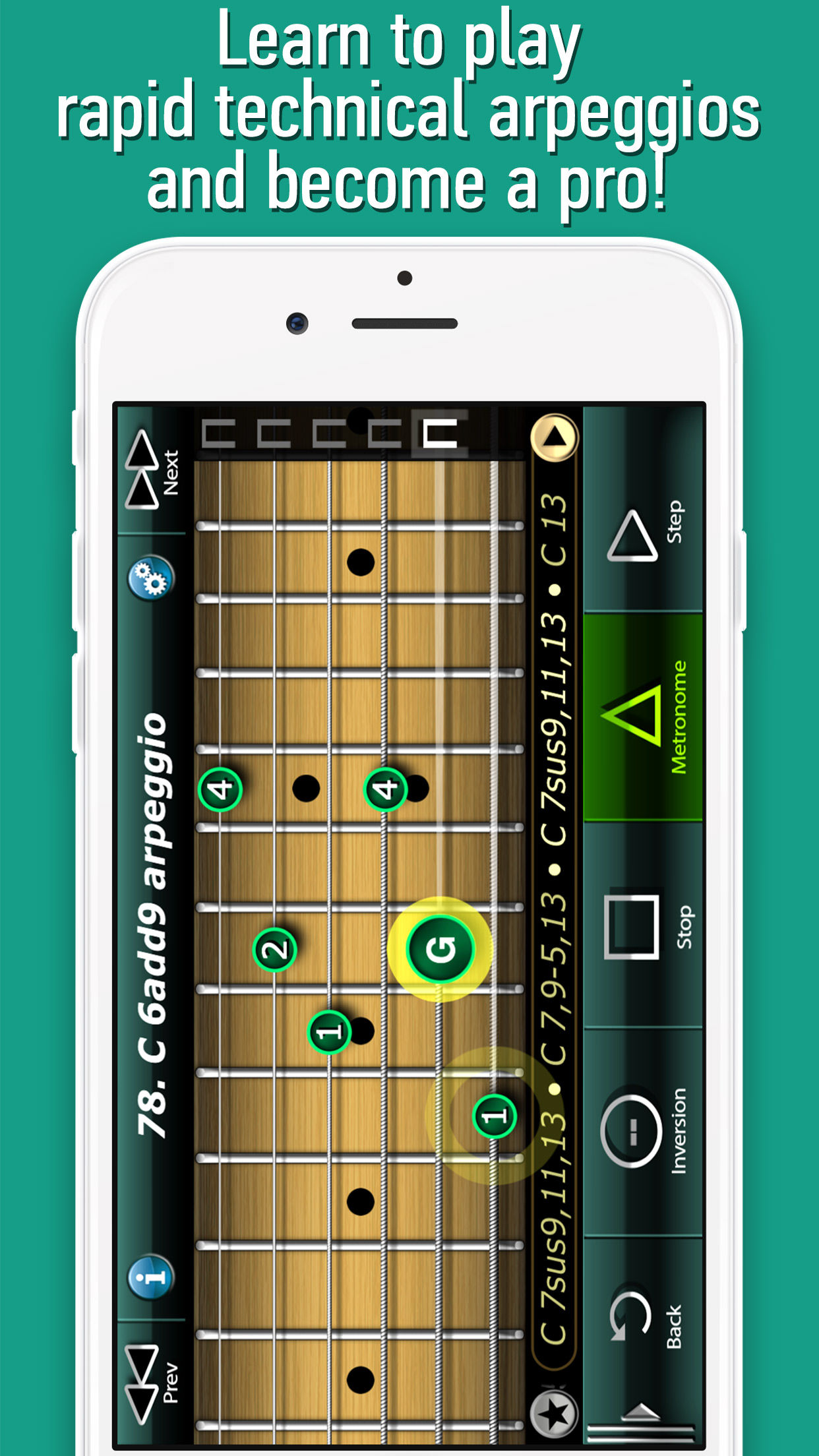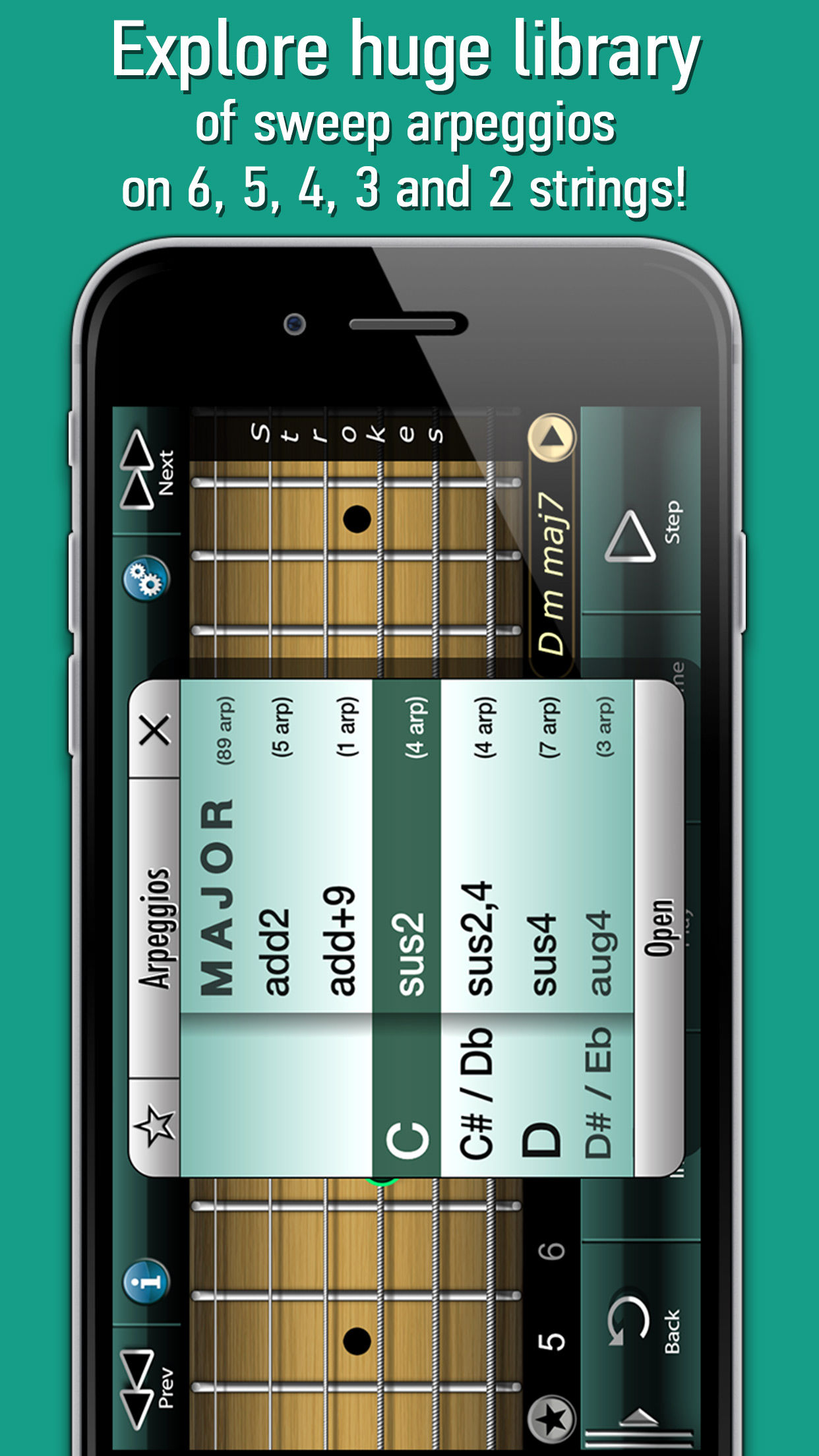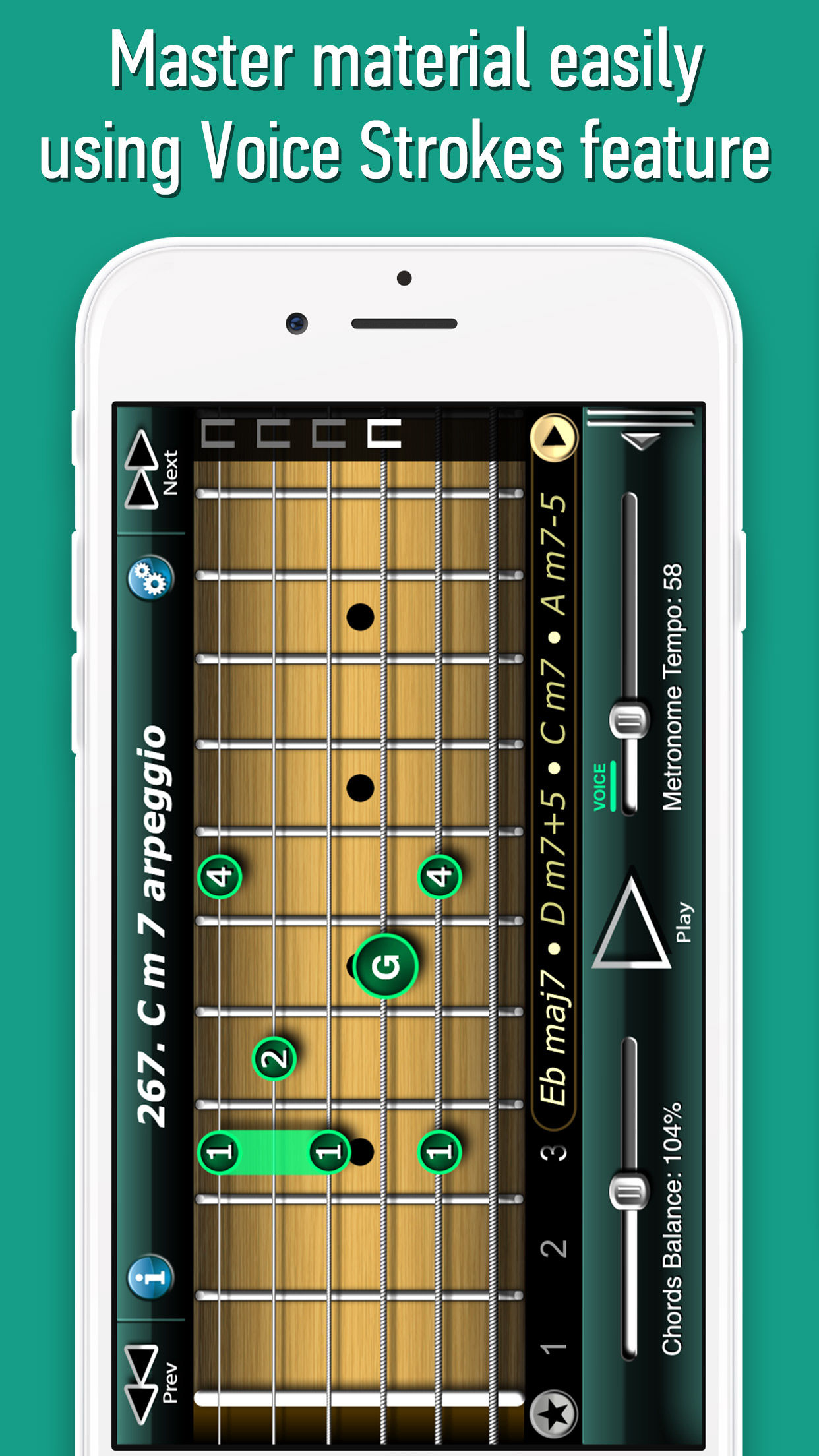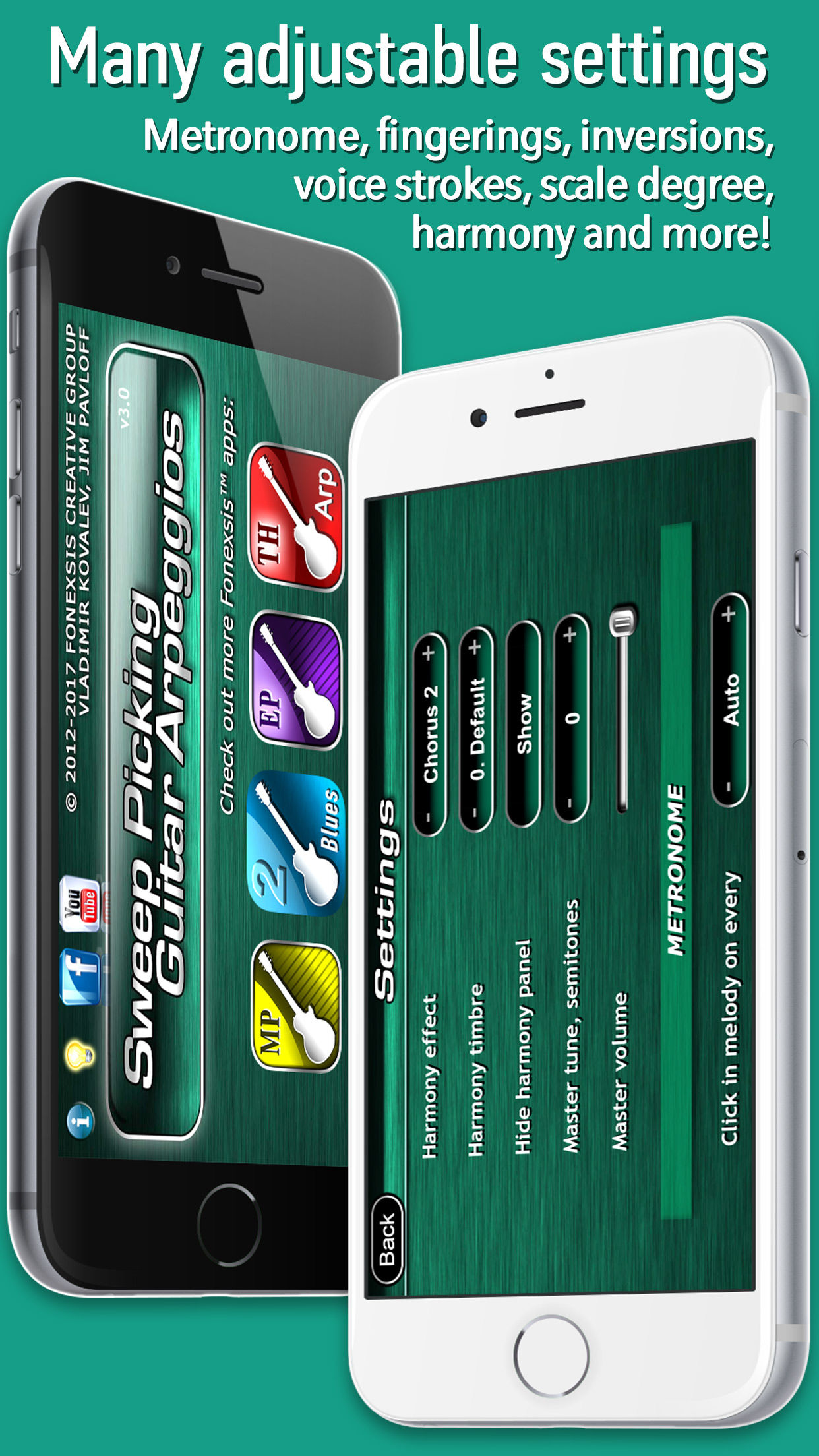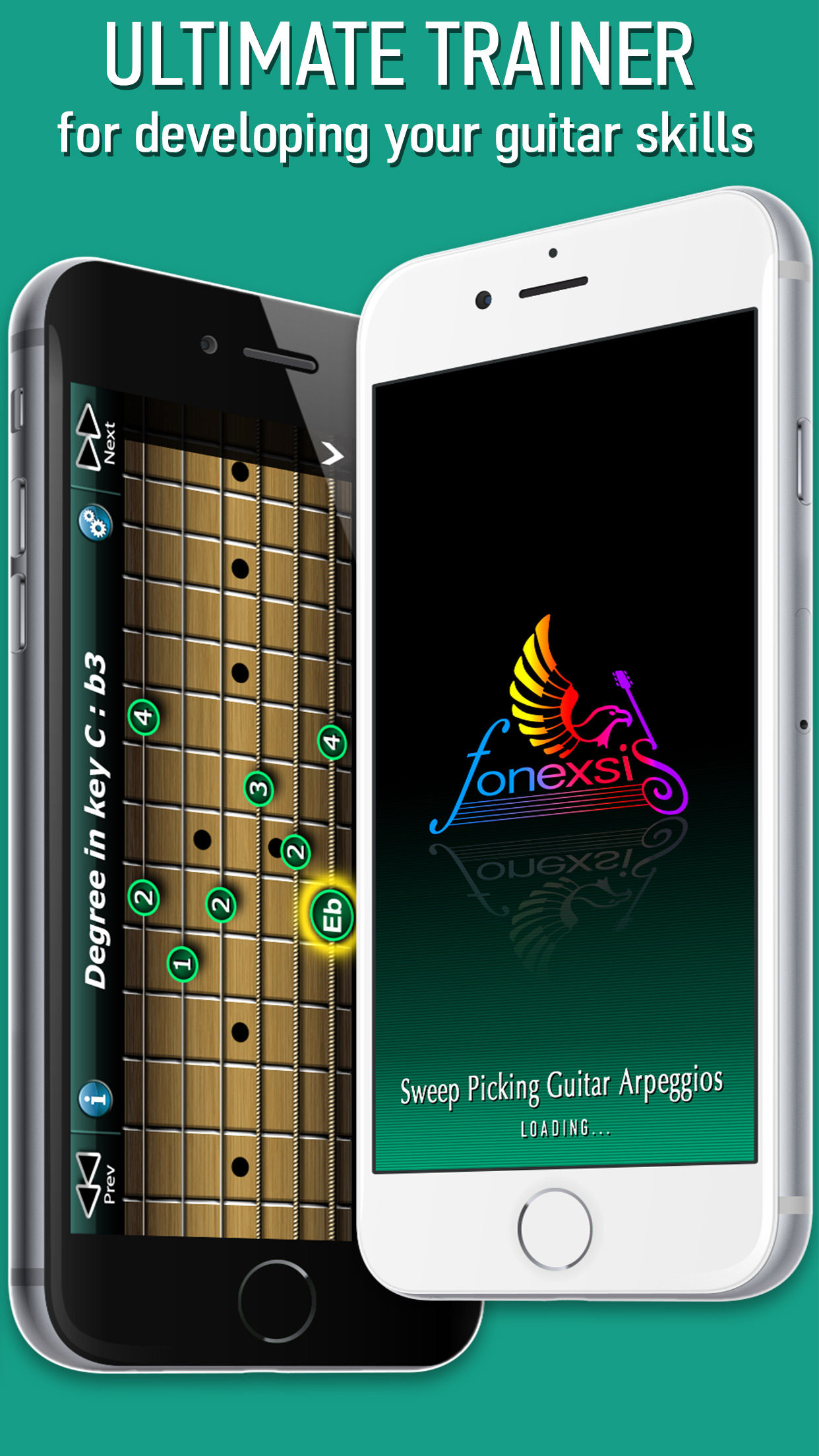 Other Features
Harmony feature: you can see and listen to the chords, over which a current arpeggio can be played. This feature can be switched off when it is unnecessary. You can also use given chord progressions for your compositions
Cursor can display note names or fingering (selectable)
Notes can display note names or fingering (selectable)
Degree indicator. It allows you to examine arpeggio's scale steps in detail. (Degree on/off toggle is located at the bottom of the Settings page)
Step-by-step note playback in both directions for more detailed learning or arpeggios
Metronome feature with adjustable tempo and bell sound synched to arpeggio
Adjustable volume balance between harmony and guitar solo sounds
Two guitar sound banks (Acoustic and Distortion) to select
Six selectable harmony timbres to choose from
Stereo Chorus FX for harmony chords at your choice
Reverb effect
Master Tune option