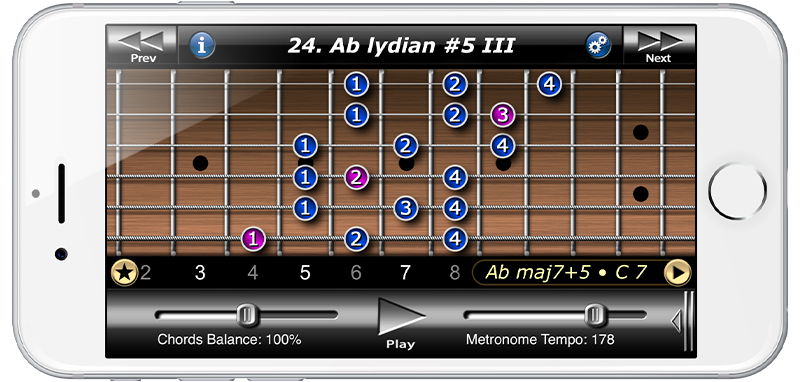 Key Features
541 type of different modes, which can be easily transposed, resulting in about 6,500 total modes (incl. transposition)!
3-notes-per-string approach works perfectly for guitar
Easy learning of modes
Ability to achieve fast performance speed (Shredding)
Perform modes using full fingerboard (horizontal system)
Theoretical and practical usage for guitar, bass and piano players
Given material works best with jazz but also can be used for latin, pop, funk, rock, etc.
This school will work for a beginner as well as for intermediate and advanced players
Guitar Driller Integration support

Introducing Modes Symmetry School
Want to play guitar better than anyone? Are you a rock, metal, jazz, funk or classic musician? Then this app is just for you!
This is an unique collection of guitar modes that gives you an excellent original material for improvisations! "Guitar Modes Symmetry School" is a triple horizontal system, in which modes are played with 3-notes-per-string approach. Unlike the "vertical-traditional" fingering, this school presents "horizontal-extended" fingering, that helps to perform modes in 2-3 octaves bound. Such artists as Shawn Lane, Frank Gambale, John McLaughlin, Allan Holdsworth, Guthrie Govan, Paul Gilbert, Steve Vai, Richie Kotzen, Joe Satriani and others used to practice extended fingering in their songs. This school will help you to take possession top technique, i.e. you will be able to more quickly achieve technique perfection. Material inside this app represents our several years experience, and we hope it will give you some pleasure!
About Right Hand
All modes presented in this app can be performed using sweep picking or legato technique. However, we recommend you to use a standart picking technique only (up, down, up, down... or down, up, down, up... etc.) when performing these modes.
DEMO VIDEO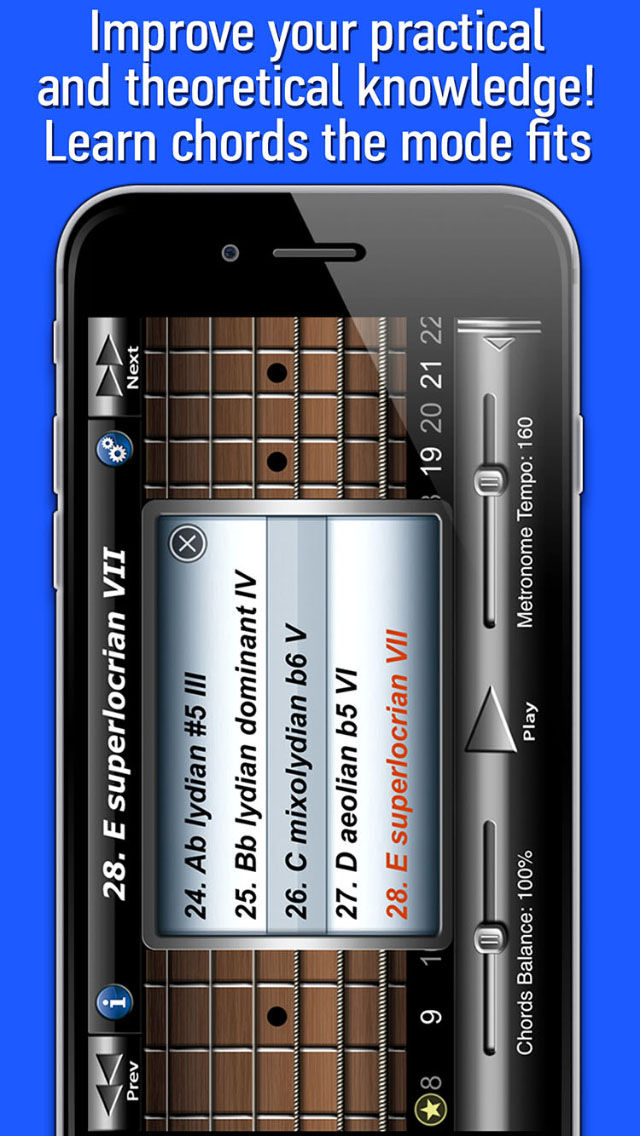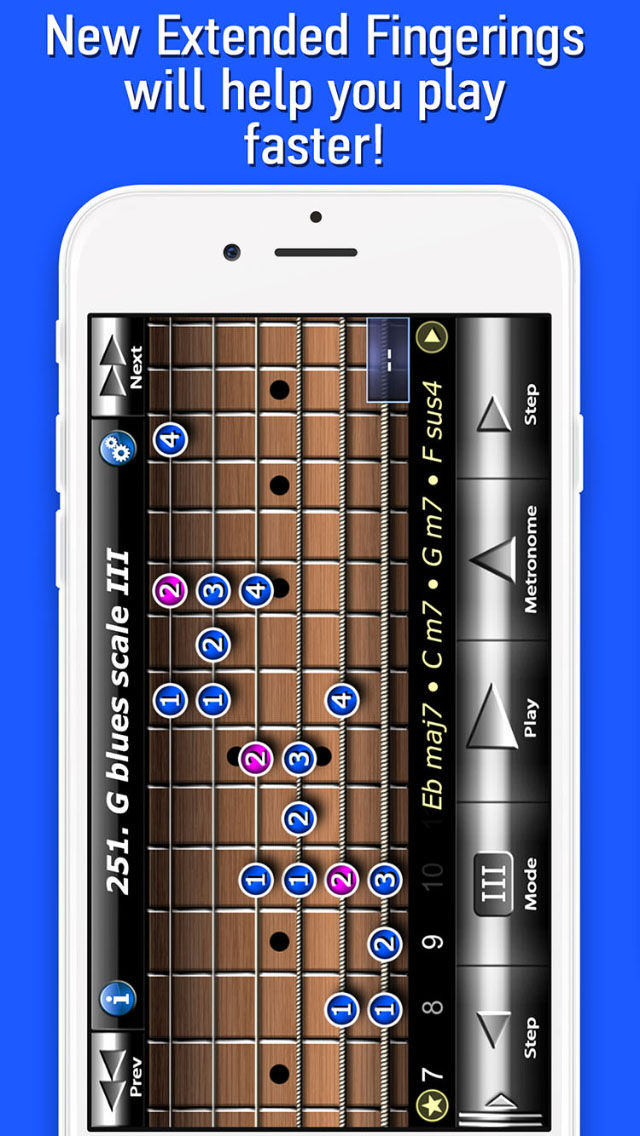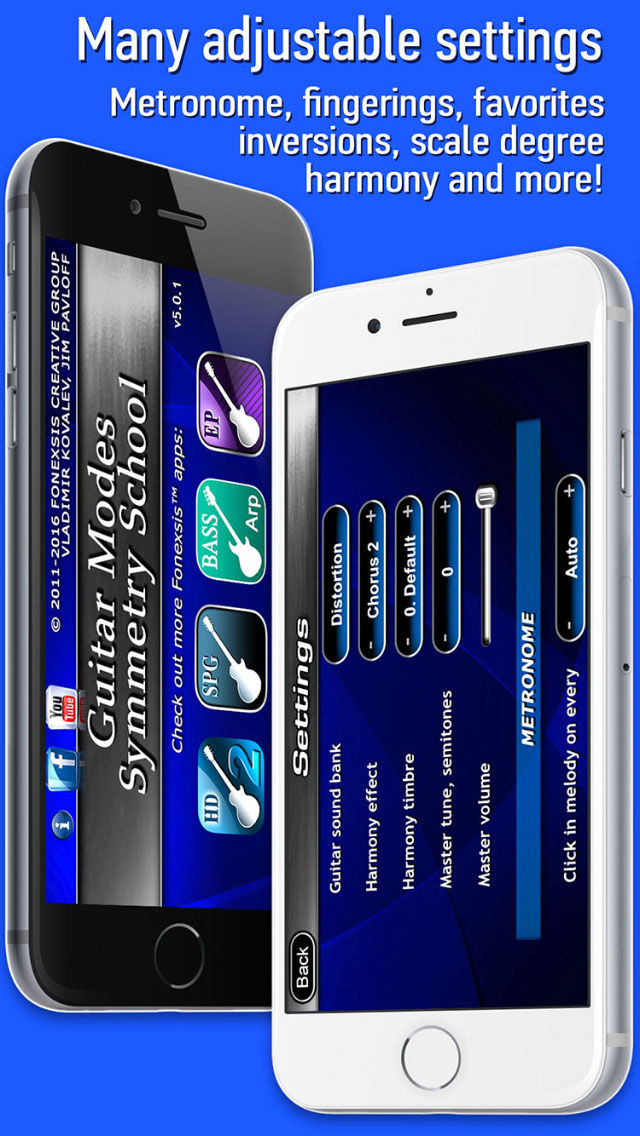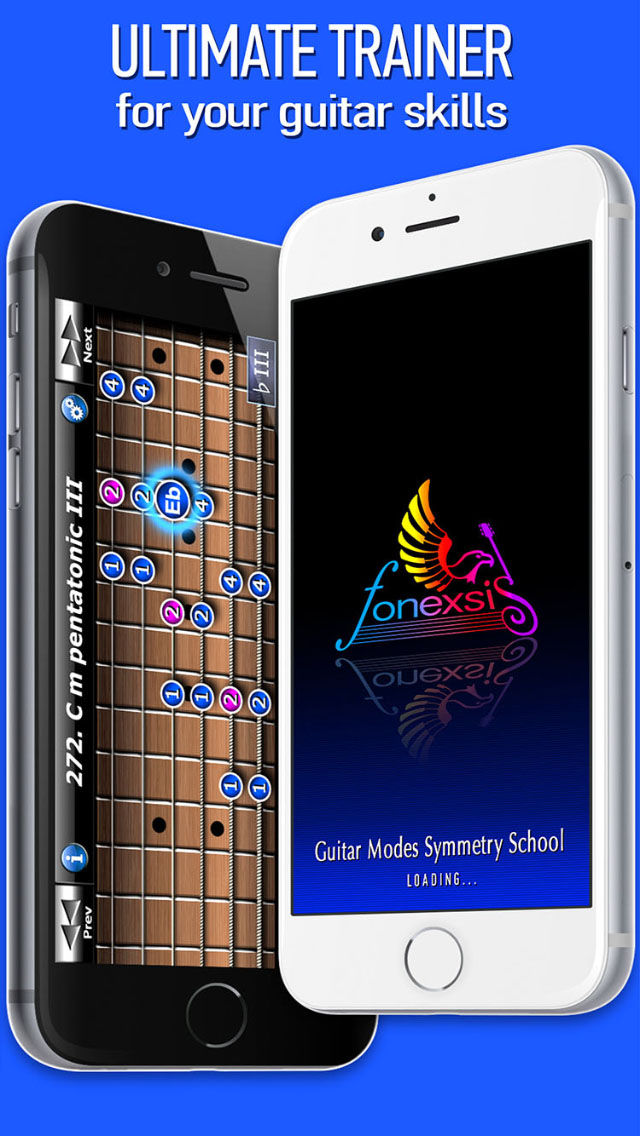 Other features
Harmony feature: you can see and listen to the chords, over which given modes can be played. More information about these chords you can find in our "International Guitar Chords 1 & 2" apps
Scale Harmonizations
Every mode is provided with corresponding optimal fingerings for your comfort
Transpose modes into any desired key by dragging notes on the screen with your finger
Metronome with adjustable tempo and time signature for training
Cursor can display note names or fingering (selectable)
Notes can display note names or fingering (selectable)
Degree indicator. It allows you to examine scale steps in detail. (Degree on/off toggle is located at the bottom of the Settings page)
Sharp and flat signatures correspond to the current mode's key
Fast cycled playback with adjustable tempo (30 - 360 BPM)
Step by step note playback in both directions for detailed learning of modes
Manual note selection by tapping notes on the screen
Two guitar sound banks (Acoustic and Distortion) to select
Six selectable harmony timbres to choose from
Stereo Chorus FX for harmony chords at your choice
Reverb FX on guitar sounds
Favorites button to mark your favorite modes. Then you can access them all from "Favorites" folder of the picker
iPad Pro, iPhone 7, 7 Plus high resolution screen support