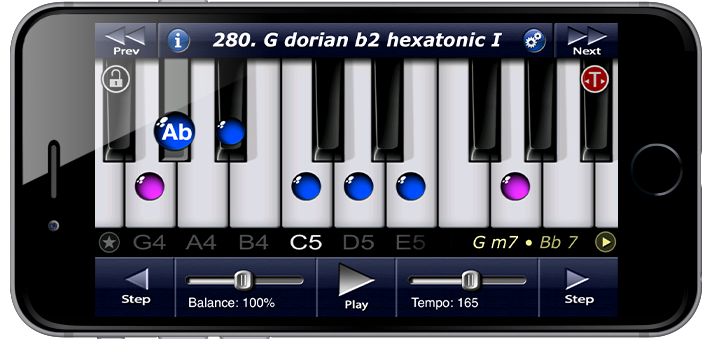 Key Features
Library of 433 modes (harmonic, melodic, diminished, hexatonic, whole tone, augmented, double harmonic, altered pentatonic, messiaen modes), which can be transposed in any key (about 5,200 total modes incl. transposition!)
Easy visual representation of modes and scales
Theoretical and practical usage for any musical instrument
Accompaniment (Harmony) feature: you can see and listen to the chords, over which the current Mode or Scale can be played
Lock to Mode function. It enables you to play only those notes, which belong to currently selected Mode on the piano keyboard. This is useful to play a melody on keyboard or to quickly listen to selected Mode or Scale

Introduction
Piano Modes Station is a professional interactive collection for any music man. It gives you an excellent original material for improvisations* and solo. It is designed to explore the magic world of modes and scales for you on piano with ease and comfort! A great tool, not only for beginner pianists, but also for composers and teachers of music theory. This is a creative instrument for all music styles! It's a must have for every musician!!!
* For more info, enter "music improvisation" in your internet browser.
Other Features:
Play piano keyboard on the screen with your fingers
Piano keyboard is easily movable and resizable with your fingers
Six adjustable Harmony timbres and FX
Transpose to any desired key by tapping Transpose button (T) and dragging notes with your finger along the piano keyboard
Ability to change playback tempo for training
Ability to adjust a volume balance between accompaniment and piano sounds
Favorites system. You can mark your favorite modes and then access them from Mode Picker's "Favorites" folder
Note names are displayed inside the playback cursor
Sharps and flats signatures correspond to the current scale's key
Note degree feature allows to see current note's scale degree
Manual step by step note playback in both directions
Stereo high-quality sound engine for listening in headphones
All Fonexsis apps are supported by free updates!